Marvel Studios' first animated series, WHAT IF…?, has now an official trailer, and key art, which also reveals the show's release date, hitting Disney+ starting August 11th, with new episodes to release every Wednesday. You can look at the poster below: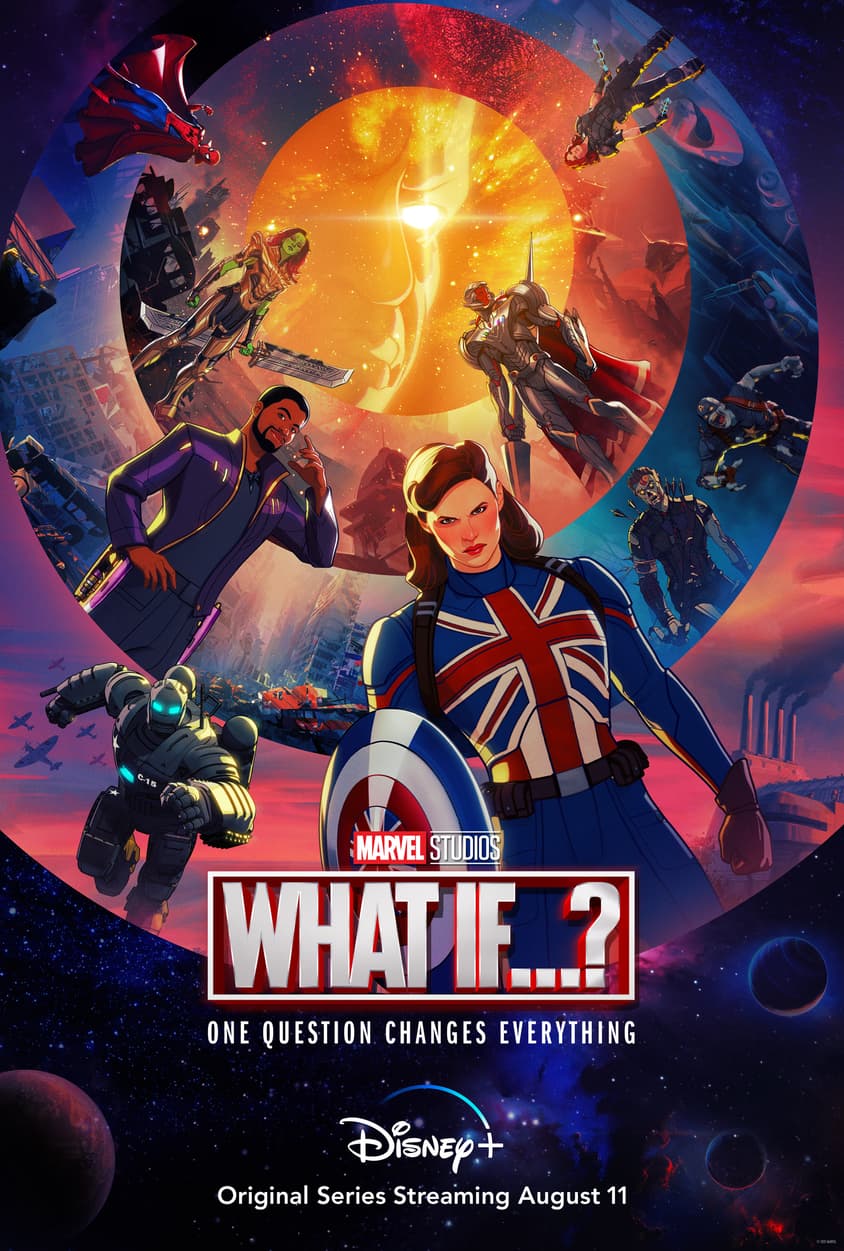 The series has assembled a star-studded cast of MCU veterans, including Hayley Atwell, Josh Brolin, Dominic Cooper, David Dastlmachian, Michael Douglas, Karen Gillan, Jeff Goldblum, Frank Grillo, Sean Gunn, Chris Hemsworth, Tom Hiddleston, Djimon Hounsou, Samuel L. Jackson, Toby Jones, Michael B. Jordan, Neal McDonough, Natalie Portman, Jeremy Renner, Michael Rooker, Paul Rudd, Sebastian Stan, Chris Sullivan, Stanley Tucci, Taika Waititi and Chadwick Boseman in his final appearance as T'Challa, which was recorded before he passed away in August 2020. Kevin Feige explained in an interview that he had recorded "multiple episodes" before his death, qualifying his performance as "very moving."
Jeff Goldblum stated that Robert Downey Jr. would return as Tony Stark/Iron Man for the series, though it has not been officialized by Marvel. Here's the official plot synopsis of the series:
"The first trailer for Marvel Studios' What If…? has arrived and asks the question if one thing changes, what kind of ripple effects would that cause? The series showcases compelling and reimagined famous events from films in the Marvel Cinematic Universe, creating a multiverse of infinite possibilities. Fan-favorite characters return, including Peggy Carter, T'Challa, Doctor Strange, Killmonger, Thor, and more. The new series, directed by Bryan Andrews with AC Bradley as head writer, features signature MCU action with a curious twist. "
So it doesn't look like the plot is telling much about the show, in-depth, but you can watch the trailer below, which gives you an idea of how the series will look and feel:
Marvel Studios' What If…? releases on Disney+ August 11.
Source: Marvel